Everything that hung below the frame had been torched off when the caboose was set on the ground in the early 60s. So while we do not have the original brake equipment, we do know where it was located. The positions of the bolts that hold the 'feet' of the various brake components were measured to ensure proper location of the new parts. It was at this time we realized we had the A and B ends of the caboose reversed.
A K-brake in storage was used to replace the original. It was thouroughly cleaned inside and out. The triple valve was sent out for sevicing and new seals were obtained. The mounting straps were attached to the frame while it was upside down to remove any chance of everthing not fitting properly. Once ready, the air resevoir and cylinder sections were bolted together and mounted to the frame. The piston, piston retainer/guide, and triple valve were added with the K-brake in place. Other brake line parts were gathered, cleaned, and assembled on the frame. An air test was done to check for leaks and to test the air resevoir. Everything was fine and the air resevoir held its air without leakage. A 'dump' test was used to check the piston and it worked as it should.
A one piece K-brake was cleaned and painted for use under the caboose.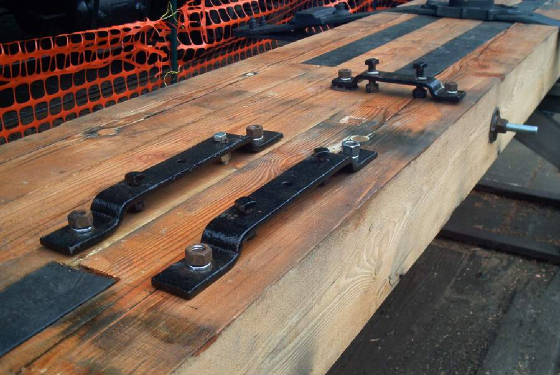 These three straps support the K-brake on the frame.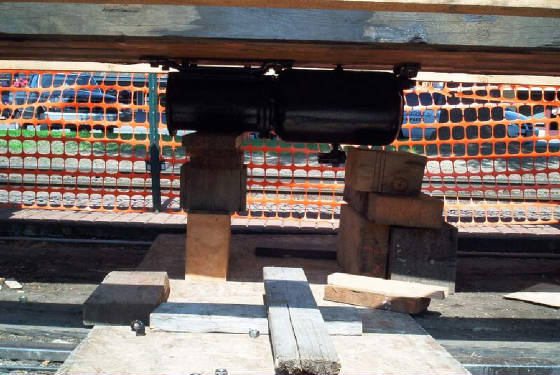 The K-brake was blocked up into place.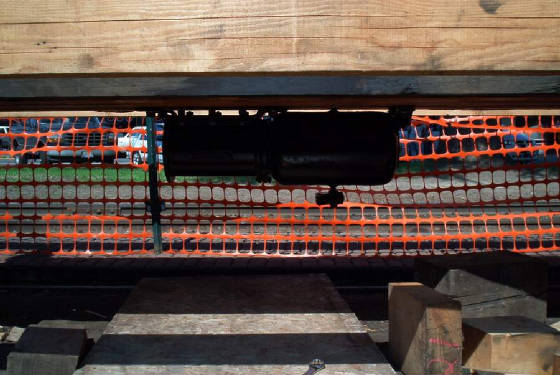 The K-brake was bolted to the support straps and the blocks removed.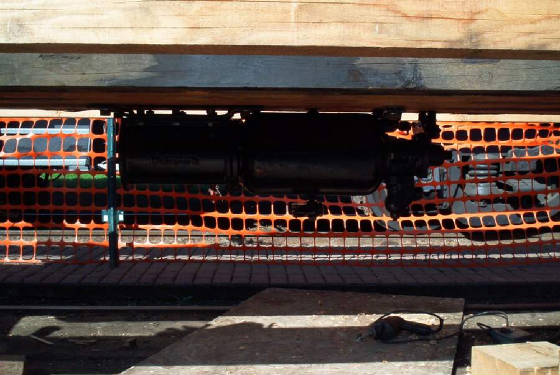 The triple valve was added, folled shortly after by the piston retainer'guide.